Monsoon Cased External Centrifugal Fan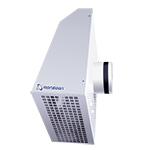 Metal Cased External Centrifugal fans are Ideal for applications where it is vital that the noise levels are at an absolute minimum e.g. recording studios or medical consulting rooms. However, they are also commonly used in domestic kitchens.
Product Code:UEC100, UEC125, UEC150
For technical datasheets, please contact us on 01823 690290.