Monsoon Ceiling Sweep Fans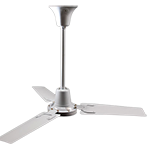 Monsoon Ceiling Sweep fans ideal for cooling in the summer and Energy conservation in the winter. For use in mid-size or large rooms as well as reception halls, waiting halls, Restaurants, disco's, boutiques, wholesale retail outlets, sports halls and industrial drying applications.
Product Code:HCT (HCF)
For technical datasheets, please contact us on 01823 690290.