The Monsoon Energysaver™ IntelliSystem Heat Recovery Unit, which offers a smarter way to whole house ventilation, has been shortlisted in the prestigious Electrical Industry Awards. Already an award-winning product, the IntelliSystem has been named as a finalist in the 'Residential/Domestic Product of the Year' category. This exciting news is another boost for the state-of-the-art IntelliSystem which is packed with innovative features.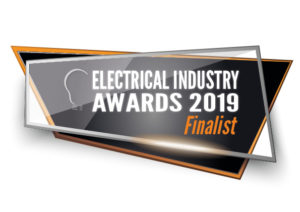 The Electrical Industry Awards are set to take place on Thursday 24th October in the jubilant atmosphere of the Palace Suite at the Royal Garden Hotel, Kensington, London. One of the industry's longest running and most prestigious award schemes, the Electrical Industry Awards is a celebration of the best electrical industry professionals have to offer and is a key date in the calendar.
"We are delighted that the IntelliSystem has been recognised by the industry once again having already won an Electrical Wholesaler Award earlier this year. Being named as a finalist at these prestigious industry awards is a great honour," said Robin Francis, Managing Director of National Ventilation.
National Ventilation's Monsoon IntelliSystem Heat Recovery Unit offers a smarter way to whole house ventilation. A Mechanical Ventilation with Heat Recovery (MVHR) unit that is near silent, the IntelliSystem has market-leading efficiency and offers easy control via its touch screen or Wi-Fi linked App. Designed to provide the maximum level of control and comfort available, it continuously supplies and extracts air throughout the home and features a heat exchanger which recovers up to 93% of the heat energy. The handy app offers easy installation and also aids wireless commissioning, removing the need for installers to repeatedly return to the unit during commissioning of airflows, in turn this encourages best practice and high performance.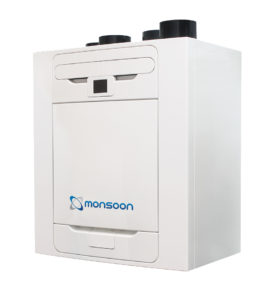 In addition, this lightweight unit offers a complete summer bypass facility, left/right handing, pre-heater and post heater options, and ISO ePM2.5 & ISO ePM10 filter options to help ensure a healthy environment for households with good indoor air quality.
National Ventilation is one of the leading manufacturers and suppliers of ventilation solutions. It has one of the biggest and most diverse range of ventilation products in the UK specialising in innovative, energy-saving ventilation products that can accommodate domestic, commercial and industrial applications. National Ventilation also offers a free design service through its dedicated expert design team that can provide full ventilation designs and site visits, as well as offering training on fans and systems.
For further information on all products and services offered by National Ventilation telephone 01823 690 290.