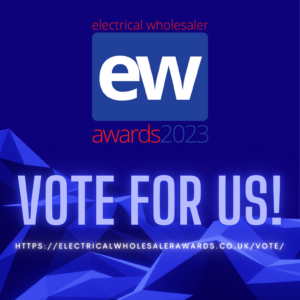 National Ventilation, a leading UK-based ventilation manufacturer and supplier, has been nominated in the Electrical Wholesaler Awards 2023. The Monsoon UMD 100T mixed flow inline extractor fan has reached the shortlist for the 'Best New Product' award. Winners will be chosen via a two-step process, entrants must first face an online vote by industry professionals, which takes place at https://electricalwholesalerawards.co.uk/vote/ with voting closing on Tuesday 1 August 2023. After, a specially selected judging panel will critique voting entries, comprised of individuals with extensive industry knowledge and experience.
The Electrical Wholesaler Awards has provided a unique platform for the recognition of excellence and achievement across the electrical wholesale sector. The two-step award process means only the very best pick up a coveted stamp of industry approval. The winners of the Electrical Wholesaler Awards will be announced during a live lunchtime awards ceremony on Thursday 28 September 2023 at the Chelsea Harbour Hotel, London.
National Ventilation's award-winning Monsoon UMD 100T mixed flow inline extractor fan is now made from recycled plastic, taking another step towards more sustainable choices for wholesaler customers. Designed for rooms with high humidity, such as bathrooms and kitchens, the popular Monsoon UMD ticks all the right boxes when electricians are looking for exhaust and supply ventilation systems that require a fan that is powerful, energy efficient and quiet. Made in the UK, the market-leading UMD offers a high extract performance of up to 198m3/h allowing it to easily clear steam from bathrooms. This is combined with power consumption as low as 17-19W and low noise levels of just 28dB(A) on low speed (which is even lower when installed in a loft space or void).
"At National Ventilation we are delighted to be able to offer our customers more sustainable choices with the Monsoon UMD and are thrilled to have been nominated in the Electrical Wholesaler Awards. The popular UMD offers premium-build quality and great reliability, all backed up by an extended 5-year warranty and now it is made from recycled plastic too", said Robin Francis, Managing Director at National Ventilation.
Now manufactured from a reliable, regularly available, recycled source of High Impact Polystyrene (HIPS) and ABS plastic, the new Monsoon UMD 100T is still high performing and now more sustainable too.
The Monsoon UMD 100T inline extractor fan marks an industry step-change in ventilation manufacturing by moving from virgin to recycled plastic, enabled through investment in specialist manufacturing equipment, allowing National Ventilation to produce the range in recycled plastic without affecting the unit's function or award-winning performance.
An ideal ventilation solution for electricians offering a powerful, energy efficient bathroom/kitchen fan that is easy to install, with just four fixing points. The popular UMD can be used with rigid and flexible ducting. The fan is IPX4-rated, meaning it is protected from splashing water in any direction. It also forms part of National Ventilation's popular Monsoon Shower Extract Fan Kit, which includes everything needed for a complete install. Offering install flexibility, the 100mm fans are easy to retrofit in existing bathroom as well as for new builds.
Featuring a two-speed motor with the option of overrun timer from 2 to 30 minutes, there is no need to rewire the fans to change the speed, instead the speed can easily be changed by removing and replacing the jumper from one part to the other. All these features mean that electricians can install the fan simply and quickly reducing the amount of time on site. Another safety feature is that the fans' motor is equipped with Standard Thermal Overload Protection for extra safety.
The popular UMD is a product that flies off wholesaler shelves offering electricians a reliable, energy efficient, powerful, quiet ventilation solution for bathrooms and kitchens. With the construction industry striving to lower its carbon emissions, the UMD therefore ticks all the right boxes since it is made from recycled plastic it offers a more sustainable choice for wholesalers to offer their customers, which is a great selling point for households. The UMD is also available as part of National Ventilation's popular Monsoon Shower Extract Fan kits. The fan's premium build and five-year warranty gives wholesalers confidence that electricians will have fewer callbacks while wholesalers will have fewer returns.
If you would like the Monsoon UMD 100T mixed flow inline extractor fan to win the EW Awards this year, cast your vote here: https://electricalwholesalerawards.co.uk/vote/
For further information on Monsoon UMD visit: https://www.nationalventilation.co.uk/wp-content/uploads/2020/09/Monsoon_UMD_Mixed_Flow_Fans_Datasheet.pdf
For further information on all products and services offered by National Ventilation telephone 01823 690 290 or visit http://www.nationalventilation.co.uk.