National Ventilation, has launched its 'Know How' app which is set to help electricians and wholesalers easily find the products they need at the touch of a button. This handy new app offers quick and easy access to the latest versions of National Ventilation's brochures, datasheets and technical documents. Electricians can also be sure that useful information such as installation instructions are simple to locate and always available.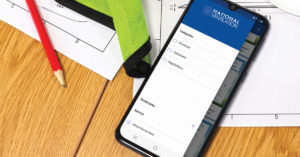 National Ventilation's new app is set to make life easier for electricians when they are onsite. Know How will help them find the right product for the job ahead of going to a wholesalers, or check installation details in the technical brochures. Meanwhile for electrical wholesalers it means they can swiftly and easily find a product to show a customer without having to flick through brochures. National Ventilation's free design service is also bookable via the 'About Know How' section of the app, which gives an overview of the breadth of products available.
"The launch of our new app is just another way that we're making working with us easy and helping wholesalers and electricians quickly find the information that they need. The app contains a wealth of useful information and users should find the app simple thanks to its user-friendly interface," said Robin Francis, Managing Director of National Ventilation. "With all the information available offline, users can access what they need, wherever they are, at the touch of a button – meaning no need to carry around hard copies and always having the most up-to-date information on National Ventilation products."
National Ventilation Know How can be downloaded on a smart phone or tablet, on either iOS or Android platforms, and users can choose to view brochures, datasheets or technical documents. A search tool makes finding the product required simple and fast and the option to bookmark the most commonly used documents makes for even easier access. Product information and documents can also be shared via air drop, email etc..
Plus, Know How updates each time users visit the app so they can be sure that they are always looking at the latest product information. This means that unlike printed material, such as brochures, Know How will not go out of date. Each time the user visits the app, they are notified if there are any new updates to download and given the choice to accept or not. This allows electricians or wholesalers to choose to delay downloading the latest version until they are on a Wifi connection if they wish. And by providing access to e
xtensive product information via Know How, National Ventilation will also reduce its environmental impact thanks to less printed material being required.
Know How is set to become the go-to source for electricians and wholesalers who will always have full access to product information even when they're offline; essential for when internet access is poor or non-existent on site. With a simple tap on a smart phone the app allows electricians to easily access information, such as installation instructions, much faster and easier than trying to locate the information on websites online.
National Ventilation prides itself on its partnership with electrical wholesalers, acting as their ventilation department. Know How is another useful tool in this relationship and the app provides wholesalers with easy access to product information allowing them to simply and quickly support electricians. No more searching on websites or opening product boxes to find instructions.
Know How is available to all customers; from electricians and wholesalers through to developers and self-builders, and is already set to save time on site and in-store. For those customers who would still prefer a print copy of product information, National Ventilation can supply this on request.
National Ventilation is one of the leading manufacturers and suppliers of ventilation solutions. It has one of the biggest and most diverse range of ventilation products in the UK specialising in innovative, energy-saving ventilation products that can accommodate domestic, commercial and industrial applications. National Ventilation also offers a free design service through its dedicated expert design team that can provide full ventilation designs and site visits, as well as offering training on fans and systems.
For further information on all products and services offered by National Ventilation telephone 01823 690 290
To download the android app, please visit – https://play.google.com/store/apps/details?id=com.natVent.knowHow&hl=en_GB
To download the iOS app, please visit – https://apps.apple.com/gb/app/know-how/id1470215316