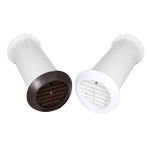 National ventilation has extended its domestic ventilation product range with the addition of Monsoon Fast Fix Internal kit.
Designed to be installed from within the building, Monsoon Fast Fix internal kit is ideal for high-rise applications where access may be an issue. Monsoon Fast Fix Internal kit features a slim internal flange that can accommodate a variety of fans or grilles, and is flexible enough to handle deviations in the internal surface finish.
The Kit has been designed to fit a 117mm hole inside the wall with a minimum depth of 225mm and a maximum depth of 390mm. The Kit comes with optional backdraught shutter models which are very useful with intermittent fans, backdraught shutters will ensure no draughts come in to the home through the kit. Being able to adjust to the thickness of the wall, the Fast Fix Internal Kit is can be used as a passive air grille in passive ventilation.
For more information on the Fast Fix Internal Kit, please visit: https://www.nationalventilation.co.uk/download/monsoon-fast-fix-internal-kit/