National Ventilation, has launched the Monsoon EnergysaverTM IntelliSystem Heat Recovery Unit. Offering a smarter way to whole house ventilation, the IntelliSystem is a Mechanical Ventilation with Heat Recovery (MVHR) unit that is near silent, has market-leading efficiency and offers easy control via its touch screen or wifi linked App. Designed to offer the ultimate MVHR solution in one unit, the IntelliSystem is ideal for self-builders and small developers.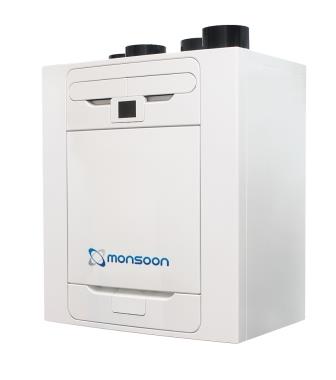 Offering state-of -the art controls the IntelliSystem boasts both an easy-to-use App or touch screen controls. Households can simply download the IntelliSystem's free App onto their smartphones which enables sophisticated but simple control over their indoor air quality (IAQ). Via the App residents can select operating modes, view unit speeds, efficiencies and temperatures and set schedules. Households can also link the unit to their home router via a remote server and then control the unit on their home network. Alternatively, the IntelliSystem can be controlled via the touch screen control panel on the unit which comes with a manual boost switch that is designed to provide an increased level of ventilation when required to eradicate odours or during hot periods during the summer.
 "Offering improved IAQ, easy control, low noise and high efficiency, the IntelliSystem is sure to be a popular choice with smaller developers and self-builders alike" said Mick Daniels, Sales Director at National Ventilation. "A summer bypass mode is another great feature which has a range of options to help ensure year-round thermal comfort allowing households to relax in a comfortable, healthy home environment."
IAQ is further enhanced with the IntelliSystem thanks to ISO ePM2.5 and ISO ePM 10 filter options which help ensure that even buildings in heavily urbanised areas can filter out most impurities, including damaging PM2.5 particles. Flow sensors detect filter resistance when filters need changing and will notify households via the App or controller when filters need to be replaced, thus helping to maintain the quality of incoming air.
Offering high thermal efficiency and low energy consumption combined with impressive control, the IntelliSystem has been designed to provide the maximum level of control and comfort available by continuously supplying and extracting air throughout the home ensuring the best possible consumer experience. It extracts warm, moist air from 'wet' rooms through ducting which passes through the heat exchanger before being exhausted outside. Fresh incoming air is preheated via the integral heat exchanger which recovers up to 93% of the heat energy that would otherwise be wasted, offering market-leading performance.
Developed for modern thermally efficient homes, IntelliSystem's programmable summer bypass is fully automatic and truly intelligent. Set for both comfort temperature and minimum external temperature, its settings enable the controls to determine whether it is winter or summer allowing it to run without resident intervention. For further cooling the IntelliSystem summer bypass has an 'evening fresh' option that spends 5 hours at a selected setting, such as boost or purge, finishing at about 10pm so there is no nuisance noise at night. Additional cooling is also available for periods of several days of high temperatures and warm nights with the 'night time fresh' setting where IntelliSystem utilises an overnight purge that allows a building to be pre-cooled for the following day by taking advantage of cooler night-time temperatures.
The IntelliSystem has a range of features that installers will find attractive too. The compact and lightweight unit makes installation easy with the unit suitable for mounting vertically in a plant room or utility room with both left and right-hand installation achievable by simply selecting the spigots to atmosphere via the touch screen controller. Wireless commissioning is possible via the App, encouraging best practice and high performance through simplified commissioning, saving installers time on site. USB functionality also allows pre-commissioning, thus saving time on developments with same specification builds.
Specialising in innovative, energy saving solutions, National Ventilation has one of the largest ranges of ventilation products in the UK. National Ventilation's Certified Ventilation Team can inspect, test and provide information for any of the common types of domestic ventilation systems in the UK whilst its free design service includes unit calculations, a full kit list as well as recommended duct routes. For further information on all products and services offered by National Ventilation telephone 01823 690 290.