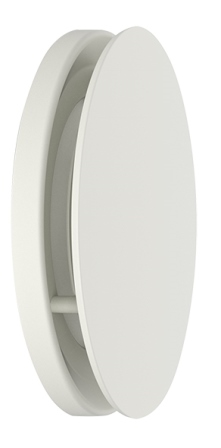 National Ventilation has launched the Monsoon UNAV 125, an adjustable diffuser that offers everything installers and households desire in a diffuser. With a single design suitable for all installations, the sleek and unobtrusive Monsoon UNAV 125 has three attractive grille styles enabling small developers and self-builders to select a diffuser to suit an individual project.
Designed to make installing and adjusting ventilation as quick and as easy as possible, the Monsoon UNAV 125 diffuser is easy to fit, clean and maintain and is suitable for both MEV and MVHR ventilation systems. The single design is suitable for both supply and extract, with adjustable air volume that can be locked within the valve meaning that the exterior of the valve will always look the same, regardless of airflow. The sleek internal design reduces turbulence compared to traditional valves to give lower pressure drop and noise across the valve. This results in a minimum noise of just 25 dB(A) at 21l/s and prevention of dirt accumulation around the valve.
"The Monsoon UNAV 125 flexible air distribution system offers ease of installation for installers and high levels of comfort for households making it ideal for both small developers and self-builders alike" said Mick Daniels, Sales Director at National Ventilation. "Combining rapid installation, airtight connection and unique low-noise performance as well as a choice of three attractive grilles, the Monsoon UNAV 125 is ideal for a wide range of properties."
The Monsoon UNAV 125 is easy to install with a quick seal fit for 125mm ducting and airtight connection without the use of mounting aids. There are also accessories that make the Monsoon UNAV 125 even more versatile such as a special collar for installation in suspended ceilings and a blanking plate for directing the airflow which blocks a third of the supply/extraction opening. The correct volume of air can be adjusted in an instant by selecting one of the 26 available settings, all of which are lockable to avoid interference once the diffuser is set up. In addition, the adjustable valve is antistatic, antibacterial and is UV-resistant.  Once installed, the valve is easy to clean and its maintenance-friendly design means there is no need to remove the valve base.
National Ventilation is one of the leading manufacturers and suppliers of ventilation solutions. It has one of the biggest and most diverse range of ventilation products in the UK specialising in innovative, energy-saving ventilation products that can accommodate domestic, commercial and industrial applications. National Ventilation also offers a free design service through its dedicated expert design team that can provide full ventilation designs and site visits, as well as offering training on fans and systems. For further information on all products and services offered by National Ventilation telephone 01823 690 290.