National Ventilation, a leading UK-based ventilation manufacturer and supplier, has launched its popular Monsoon Shower Extract Fans in kit form providing a one-box solution for a super-fast installation. Designed to make both electricians and electrical wholesalers' lives easier, there are now two new boxed-options available: the Monsoon Shower Extract Kit with a shower grille and the Monsoon Showerlite LED Extract Kit with an energy-saving LED shower light to provide illumination, as well as extraction.
Allowing electricians to easily grab a kit and go, the Monsoon Shower Fan Kits incorporate everything required for a super-fast install, both kits contain a 100mm UMD100T mixed flow in-line fan, 6m of PVC flexible ducting, an external fixed grille and cable ties. The Monsoon Shower Extract Kit also contains two internal diffusers, while the Monsoon Showerlite LED Extract Kit features an LED light and two air diffusers. Both types of diffuser come with a choice of white and chrome covers meaning the fan can be matched to a household's décor. Plus, as UK-manufactured premium-build fans both kits also come with a 5-year warranty.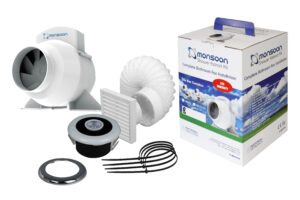 As a one-box solution the new kit form also simplifies things for electrical wholesalers. Previously the parts needed to install the Monsoon Shower Extract fans were sold and ordered separately, but with the new kit option everything is in one box. For counter staff this means they no longer need to go back and forth from the warehouse to find all the different parts required for an install while their customer waits – a time saving for both the wholesaler and the electrician.
"Offering super-fast and easy installation, as well as high performance and low power consumption, Monsoon Shower Extract Fan kits have everything electricians need for the job included in the box so they can just grab the kit and go. This really is the one-box solution for a super-fast installation" said Robin Francis, Managing Director at National Ventilation. "Offering premium-build quality and great reliability, we're backing the fans up with an extended 5-year warranty."
Made in the UK, the Monsoon Shower Fan kits combine high extract performance of up to 198m3/h with power consumption as low as 17-19W and low noise levels of just 28dB(A) on low speed. The fans are IPX4-rated so can be safely installed in the splash zone. Both kits feature a two-speed motor with the option of overrun timer from 2 to 30 minutes, with the Monsoon Shower Fans' motor equipped with Standard Thermal Overload Protection for extra safety. Meanwhile, the Monsoon Showerlite LED Extract Kit also features LED technology offering low-energy illumination which uses 3W of energy compared to standard dichroic lamps which use 20W.
Offering a choice of extract or extract with illumination, the Monsoon Shower Fans will enhance any bathroom providing improved indoor air quality and effectively tackling condensation and mould. Offering install flexibility, the 100mm fans are easy to retrofit in existing bathroom as well as for new builds. The 6m of flexible PVC ducting enables electricians to adapt the installation to any size room.
National Ventilation is one of the leading manufacturers and suppliers of ventilation solutions. It has one of the biggest and most diverse range of ventilation products in the UK specialising in innovative, energy-saving ventilation products that can accommodate domestic, commercial and industrial applications. National Ventilation also offers a free design service through its dedicated expert design team that can provide full ventilation designs and site visits, as well as offering training on fans and systems.
For further information on the Monsoon Shower Extract Fans click here. For further information on all products and services offered by National Ventilation telephone 01823 690 290.