***Stand S553, 30th June – 1st July 2018, Sandown Park, Surrey***
We will be returning to the Homebuilding and Renovating Show 2018 to exhibit our range of domestic ventilation solutions. Visitors to stand S553 will be able to view examples of heat recovery units, bathroom fans, ducting  mechanical extract ventilation unit and positive pressure systems.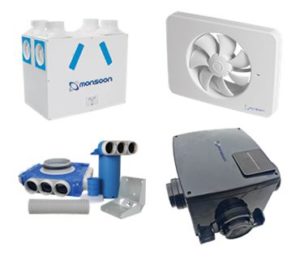 Dedicated to homebuilders, self-builders and renovators, the Homebuilding and Renovating Show showcases latest products, technological advancements and best practices available in UK's construction industry today.
During the two-day event, we will be exhibiting a wide range of domestic ventilation products. The Monsoon MON-HRU range offers the perfect solution for wholehouse heat recovery, bringing in fresh warm ventilated air and helping to save money on energy bills. The Energysaver™ IntelliSense is an ultra-modern intelligent bathroom fan with a sophisticated humidity sensor which helps to ensure good indoor air quality. The Monsoon Radial ducting is a radial air distribution system designed for use in homes, apartments and small buildings. The Monsoon Energysaver™ multi room product is a mechanical extract ventilation unit which has been designed for continuous extract of stale air from separate areas around the home. Designed for use in almost all property types, the Monsoon Energysaver™ Positive Pressure – loft systems helps to cure stubborn mould and condensation issues.
Visitors will also be able to find out more about our ventilation design service, which provides homebuilders and self-builders with a project specific ventilation system design and quotation service completely free of charge. Our ventilation design service can speed up specification process for contractors, providing them with unit calculations, a full kit list as well as recommended duct routes to meet their project requirements.
For more information on National Ventilation's products and services, visit stand S553 at the Sandown Park Homebuilding and Renovating Show 2018, or visit www.nationalventilation.co.uk. Follow us on Twitter at: @Natventilation and LinkedIn at https://www.linkedin.com/company/nationalventilation/
-ends-